Important Facts About Fire & Smoke Damage Restoration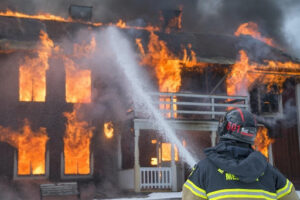 Fire and smoke damage are among the more common residential and commercial restoration services that people hire. While fire damage restoration is fairly straightforward, smoke damage restoration services involve removing smoke particles from everything that was in the vicinity of a fire. This is because smoke particles have a tendency to negatively impact the life of any object, if not cleaned immediately. 
One very important fact to keep in mind is that no matter what the reason for a fire, or whatever is burning, there will always be a certain degree of carbon monoxide (CO), carbon dioxide (CO2) and soot that can be harmful to you and your property. Other chemicals released from fire depend entirely on what is burning,  
During and after the fire (even as the fire department works towards extinguishing the fire), smoke will seep into walls, furniture, clothing, electronics (and hence damage them), and fill in any other space, including into your HVAC ducts. 
In this article, we will take a look at some crucial facts that you should keep in mind to ensure that the fire and smoke damage restoration process is successful and that you stay safe and healthy during and afterward. 
Important Facts About Fire & Smoke Damage Restoration
Not every fire is the same. The temperature of the fire, particles it emits, and even the color will change with respect to what caused the fire and what is burning. More importantly, the damage that you will have to face will also change respectively. 
There are several types of fire and smoke damages. 
Types of Fire Damage
There are six major types of fire damage and restoration processes. 
Class A Fire Damage.

These are fires where only flammable solids, including, various plastics, paper, rubber, wood, and cloth are burned.

Class A Fire Damage Restoration:

These items can easily be cleaned off by brushing them away.

Class B Fire Damage.

Fire damage from flammable liquids or solids that, when burned, become liquified. Fire from petrol, crude oil, various waxes, plastics, and paint.

Class B Fire Damage Restoration:

Burns may require scrubbing and even replacement if the surface has been burned extensively. 

Class C Fire Damage.

The fire burns with flammable gasses, such as hydrogen, propane, butane, and natural gas.

Class C Fire Damage Restoration:

Involves venting out the gas and cleaning floors, walls, and ceilings alike.

Class D Fire Damage.

These are fires where combustible metals catch fire, such as magnesium, potassium, and sodium.

Class D Fire Damage Restoration:

Damage can be quite extensive and therefore may require the complete replacement of materials.

Class E Fire Damage.

Class E fires are fires where Class A and Class B elements mix together to create an extremely damaging fire.

Class E Fire Damage Restoration:

Damage from Class E fire may require a mixture of Class A and B fire damage restoration techniques.

Class F Fire Damage.

These fires originate from cooking oils and fats. A grease fire is a prime example of Class F fire damage. 

Class F Fire Damage Restoration:

Damage restoration for this type of fire involves washing the damaged area extensively and degreasing it before performing other restoration work. 
Types of Smoke Damage
There are four major types of smoke damage and restoration methods. A mix of different restoration processes may be used to provide a more thorough cleaning session. Smoke damage restoration processes may require sanitization services as well, depending on the damage's extent.
Smoke Plus Protein Residue:

 You will find this type of smoke damage in low-temperature kitchen fires. There isn't much smoke or soot here, but you may find that the surfaces on which this smoke accumulates may get discolored. Smoke damage restorers need to be particularly careful when scrubbing this type of smoke. 

Dry Smoke Residue:

 Dry smoke comes from burning paper, wood, or foliage. Cigarette smoke is a prime example of dry smoke. Fires that spread very quickly often leave behind dry smoke, leaving behind white, powdery ash. This is fairly easy to clean, though, as long as it doesn't get wet.

Wet Smoke Residue:

 This type of smoke damage is a result of smoldering fires with low heat; where plastic or rubber is burning. The fire has a distinct smell and leaves behind jet black soot. The dense soot needs to be scraped first and then washed. 
Fuel & Oil Reside:

This type of damage is known as petroleum residue. Along with the smell of smoke, this residue also smells like petrol. This isn't a very common type of smoke for homes or businesses. The smoke is sticky and thick and therefore, particularly difficult to clean. It requires special equipment and must be cleaned promptly to avoid long-term issues.
Fire and smoke damage restoration processes may also differ based on the type of building and fire. The longer you wait to get a service, the more difficult the process becomes. This is precisely why you should always make a point of calling the right people at the right time. 
911 Restoration of Boise has a wide range of experts with in-depth knowledge about fire and smoke damage restoration. Give us a quick call to learn more about how can help you mitigate damages from a fire or smoke quickly and cost-effectively!