About 911 Restoration Boise
A Customer-Focused Owner Committed to Delivering Service Excellence
When you call on our crew, you can expect service excellence with compassion and care from start to finish. 
We are genuinely vested in your property restoration (residential or commercial). From water damage restoration to fire damage restoration, sanitization, sewage backup clean up, and mold removal, we assist you with them all with complete satisfaction. 
On-Call and Responsive Restoration Services
911 Restoration of Boise is a company with a team of highly professional, qualified, seasoned, and IICRC certified workers who prioritize every client. Our technicians have 10+ years of experience in restoration services. We know that an emergency doesn't wait for the sun to rise or business hours to start. 
Disasters can occur at any time, and property owners must have a go-to partner who can help them cope with a tough time with ease, peace of mind, compassion, and fast. And that is what you can expect from us.
We are highly responsive and just a call away. Our water mold fire restoration specialists are at your disposal 24x7x365. Whether it is a holiday or the middle of the night when disaster strikes, call 911 Restoration of Boise immediately. Our certified crew is on-call to respond to and assist with urgent disasters day and night and every day of the year. You can be confident that we'll come to your home or office when you need us to not only restore the damages and curtail and mitigate the risk of further damage. Our quick response time of fewer than 45 minutes plays a pivotal role in protecting property owners from the high cost of damages incurred.
Experience a Fresh Start with Us
We Offer Comprehensive Restoration Services with Attention to Detail
911 Restoration of Boise embrace's the fresh start philosophy. Instead of looking at the disaster and damages negatively, we view it as an opportunity to make a new beginning and start all over again. However, the best thing this time around would be that you don't have to stress or worry about working with multiple contractors and dealing with all the hassle. We have you covered. At 911 Restoration of Boise, we offer a comprehensive range of restoration services to property owners. 
Our services include:
Water damage

Mold removal

Sewage backup cleanup

Fire damage

Disaster restoration

Commercial restoration

Sanitization
Contact us if you are looking for a company offering water damage restoration near me or assistance with commercial restoration after a fire breakout. We can help and offer you premium same-day service.
Complete Satisfaction is our Service Motto
We are not done until you are fully satisfied with the work. And to ensure this, our professionals work on every disaster restoration project with full enthusiasm, unwavering commitment, and passion. We understand that coping with property restoration work after a disaster is never easy for any property owner emotionally, financially, or mentally. However, with our crew by your side, we ensure processes are carried out systematically and strategically for smooth, swift, and stress-free recovery. 
We take care of every aspect of the project, including inspection, deep cleaning, repairs, restoration, sanitization, and mold removal, allowing you to relax mentally and gain the strength you need to cope with the situation emotionally. As for the financial burden, we are ready to provide you with insurance consultation and assistance with paperwork for filing a claim. We do the best and fast as we can to restore your property to its pre-damaged and livable state. 
The end result will appeal to your eyes and will eventually make you sing praises of the high standards we have put into your property. 
Meet The Owners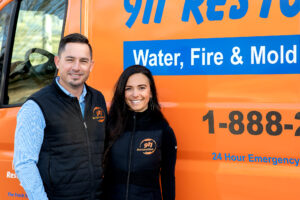 911 Restoration of Boise is locally owned and operated by TJ & Heather Oelkers. Together we have degrees in education and business from the University of Montana and a Master's in business to go along with 20+ years of business experience. We have been married for 18 years and have 3 kids and a mini labradoodle. As former athletes, we know the power of working as a team to complete a task. We are Boise-native and Heather has lived in the Treasure Valley her entire life.
We are an active family that loves all of the amenities that Idaho offers. Skiing and Bogus, Tamarack, and Brundage. Boating at Lucky Peak or Payette Lake. Fishing the Boise. Floating the South Fork. Golfing is a passion at the many wonderful Idaho links.
When it comes to game time you can find us our one of our children's soccer, volleyball, football or basketball games. We love a good BSU tailgate and game on the blue or a hoops game in the Pavilion. We may also have a Vandal soccer player in our house… We are huge sports fans and love to support the many teams and schools in our community.
911 Restoration is one of the fastest-growing and most respected franchises in the country. 911 Restoration is also Orange and Blue and those colors are a banner for success in our hometown of Boise, ID. Go Broncos!
What will set you apart from your competitors?
We are locally owned and Idaho-grown! Heather's great grandparents moved to Boise at the turn of the century and we've been a part of the community since. As 5th generation Idahoans, we conduct ourselves and our business with a sense of local pride and integrity to honor that heritage.