Water Damage Restoration
For Water Damage Restoration Near Me, You Can Count on us!
Water intrusion into your property (residential or commercial restoration contractors) can be incredibly destructive as it can strike without notice—taking you by surprise. Pipes can burst due to extreme temperatures causing massive flooding in your basement, or the dishwater can leak suddenly, causing unstoppable water spills on the kitchen floor due to poor maintenance.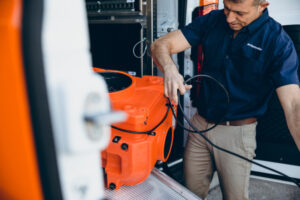 At the same time, a spring storm can wreak havoc on the leaky roof resulting in water damage to the structure of your property. No matter what the cause may be for water instruction, time is of the essence. At this point, you may not have the time to do the legwork and shortlist service providers for water damage restoration near me because immediate response to your water-related emergency is paramount. This is why property owners in and around Boise choose us.
Serving property owners for years, 911 Restoration of Boise is an experienced, reliable, and trusted water damage mitigation and restoration company. We are an insured, licensed, locally-owned, and operated company committed to helping property owners restore their premises to their pre-damaged state with complete satisfaction. Call us today at (208) 231-9909.
24-Hour Restoration Services—Because Emergencies Can't Wait
We know water damage can occur at any time. It can be heartbreaking to experience water intrusion in the middle of the night and then wait for the professionals to arrive in the morning.
Fortunately, with us, you don't have to wait and watch. Our team is at your disposal 24x7x365. Call us right away at (208) 231-9909. Our dispatch is immediate, with typical onsite arrival within or less than 45 minutes. At 911 Restoration of Boise, we serve our customers with compassion, care, and integrity taking care of everything needed to deliver you a stress-free experience and a fresh start in the fastest time. Take a look at how we work:
Free Visual Inspection for Property Owners
At 911 Restoration of Boise, our water damage techs are at your service from start to finish. We understand that after water damage to your property, there may be tons of questions that may worry you, such as: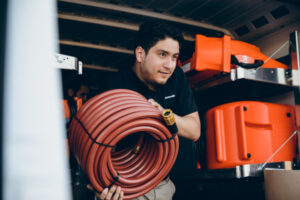 How bad is the damage, and what will it cost?
Will the standing water result in mold infestation?
How long will it take?
Will it damage your floor and structure permanently?
But don't worry! Once we arrive at your premises, our experienced techs answer all your questions in detail and provide you with the best water damage restoration services. Our IICRC-certified water damage professionals in Boise are well-trained and knowledgeable to handle and address all your concerns and damages in and around your property.
At 911 Restoration of Boise, we firmly believe that water damage restoration is an opportunity for property owners to start fresh with better ideas and remodel their property to give it a new vibe.
As we offer compassionate and comprehensive services, you can relax stress-free with no worries about hiring additional contractors for repairs or mold removal in Meridian ID. We are your go-to service provider for water mold fire restoration in Boise.
We start the service by carrying out a detailed but free visual inspection of your property. This helps us determine the degree of water damage to the property and the essential steps to ensure water damage mitigation, removal, and property restoration. Contact us today for a free visual inspection.
Full-Service Water Damage Restoration – We Have You Covered
When you have three feet of water standing on your property, you want the assurance that your property is cleared, cleaned fast, and fixed, so it is in its livable state again. It can be a hassle to arrange different contractors for different tasks around the water-damaged property but not when you hire us.
You get a full suite of services for water damage restoration from us. This includes but is not limited to:
Storm repairs
Water extraction
Burst pipe repairs
Roof repair
Boarding up
Pack-out and storage services
Leak detection and repairs
Fast and Complete Home Restoration after Water Damage
Our seasoned and trained water damage restoration staff comes equipped with all the necessary water removal and restoration equipment needed to start work ASAP. We understand that you need to get your life back to normal as quickly as possible. Hence, we never delay.
We start with a clear and thorough cleanup plan. Our experts explain it to you to put your mind at ease so that you have no unknowns to stress about.
The first step is mitigation; therefore, we pack out anything we think can get damaged or in harm's way. Next, we use professional-grade equipment for complete water extraction and removal, followed by drying and dehumidifying the structures of your property to prevent mold infestation.
Our restoration staff tests and evaluates structural damage. Accordingly, we fix all types of leaks and repairs as needed. Whether your drywall is damaged or your roof is leaking, we conduct thorough leak detection and conduct repairs, ensuring your property is in a livable state where you can create beautiful memories once again.
Free Insurance Consultation – Let us Help You File a Claim
At 911 Restoration of Boise, our top priorities are restoring your property and ensuring you remain calm in this stressful situation. This is why our water damage restoration workers are ready to assist you in every way possible, even with your insurance claim.
We can review your insurance policy and determine whether your insurance covers water extraction, floor repairs, and mold removal. This helps determine what the insurer will pay for. Moreover, we also assist with claim filing, and loss itemization and directly send the bill to the provider.
We strive relentlessly to make the water damage process as fast, smooth and hassle-free as it can be. Give us a chance to help you.
Call us today at (208) 231-9909!

Serving the communities of Boise, Caldwell, Meridian, Nampa Donnelly, Eagle, Emmett, Fruitland, Garden City, Homedale, Horseshoe Bend, Idaho City, Kunaand, Letha, Marsing, Melba, Middleton, Mountain Home, New Plymouth, Parma, Star, Wilder, and surrounding areas.