Sewage Backup Cleanup
Professional and Responsive Services for Sewer Backup Boise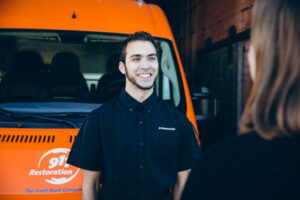 Sewer backup in Boise is an emergency. It is a troublesome incident that can disrupt life and a lot of hassle. Sewage backup must be handled immediately as it can lead to various health hazards, and sanitation problems and can cause considerable property damage. Whether the sewer backup is caused by the breakdown of the sewer system in the neighborhood, solid blockages, toilet overflow, natural infiltration, or best water damage restoration near me runoff from a storm, contact 911 Restoration of Boise. We can help.
We have the industrial-grade equipment, the right tools, techniques, and expert training to handle sewage backup jobs efficiently and to your complete satisfaction. Our compassionate, licensed, and IICRC-certified crew will arrive well-equipped to tackle the emergency immediately without any delay. Once you call us, our team will dispatch and arrive in less than or within 45 minutes.
At 911 Restoration of Boise, we respond quickly because we consider sewer backup an emergency. We care about you, your family, and your property. Our techs know that water from sewage is contaminated, containing various microorganisms like bacteria, viruses, and parasites. They can cause severe illnesses, while blocked water pipes can result in substantial property destruction. The microorganisms in the sewage water can put your family's health at risk from exposure to hepatitis A, tetanus, giardia, and other illnesses. Therefore, we mobilize our team as soon as you call us for assistance. You can reach out to us right away.
Our sewage backup cleanup professionals are at your disposal 24x7x365 because we know that disasters in Boise can strike when least expected. We will arrive fast to help you reclaim your property while eliminating the threat of pathogenic and disease contamination.
Stress-Free Cleanup Services for Sewer Backup Boise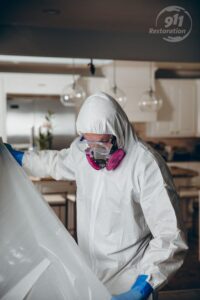 Leading with compassion and care, we strive to provide responsive, stress-free, and the best sewage backup cleanup services in Boise to our community members, including residential and commercial restoration contractors and property owners. In times like these, we know you are likely to be overwhelmed and stressed out.
The good news is that with us, you don't have to stress out about anything. We are an insured, bonded, and trusted company strongly committed to helping property owners in distress take a fresh start by assisting at every step of the way. We offer comprehensive cleanup services with professionalism, transparency, and attention to detail—thereby making the path to recovery hassle-free and clear. Call us at (208) 231-9909 for immediate assistance.
Call us for a Quick and Comprehensive Sewer Backup Boise Service Experience
Once we arrive at your premises, our certified techs first carry out a thorough and careful free visual inspection of your property. This allows us to evaluate the degree of damage, type of damage and determine the best action plan to restore your property in its previous livable and functional state.
Our cleanup will provide all services needed for property restoration. We act fast because we know that black water from a sewage backup can quickly seep into your property structure—damaging it severely. At the same time, the longer moisture lingers, it can provide ideal conditions for mold growth and infestation. Hence, every second counts.
From black water cleanup to sewage backup and water removal and complete property damage restoration services, we assist you with them all. We also specialize in biohazard cleaning services. Contact us today without any delay.
The Sewage Backup Cleanup Process Starts With Proper Mitigation
At 911 Restoration of Boise, our first step is mitigation. We start by clearing and packing out things and furnishings that may be at risk to further damage. Next, we use specialized techniques and equipment to remove sewage and perform black water cleanup much needed to prevent further contamination. We carry out deep cleaning. Our team of sewer backup in Boise focuses on sanitization and disinfecting the property to prevent microbes that may otherwise cause illnesses.
Being experienced in the sewage backup cleanup process, we understand that sewage backup can also lead to mold growth due to moisture in the air. Hence, our restoration experts take care of the situation before it becomes a problem. We carry mold inspection, remediation, and removal as part of the sewage backup cleanup service.
Along with mold removal, our specialists also perform all the repairs, replacements, and renovation work as needed to ensure full restoration of your property so that you can resume work or life and make a fresh start with a smile and peace of mind.
Trust Your Local Restoration Company For Sewage Backup Cleanup
Contact us now at (208) 231-9909. We have the experience, expertise, and equipment to clean up the nasty sewage backup mess in the fastest time. We adhere to strict safety guidelines and health regulations, ensuring your home or business is up to code and inhabitable. Let us restore your environment safely back to normal. Act fast.
Serving the communities of Boise, Caldwell, Meridian, Nampa Donnelly, Eagle, Emmett, Fruitland, Garden City, Homedale, Horseshoe Bend, Idaho City, Kunaand, Letha, Marsing, Melba, Middleton, Mountain Home, New Plymouth, Parma, Star, Wilder, and surrounding areas.