Mold Removal Service
Mold Removal Boise
911 Restoration of Boise – Call the Experts for Immediate Mold Remediation and Removal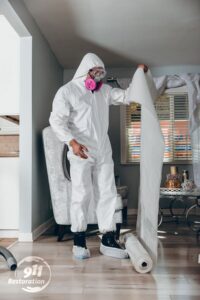 Mold is a generic name for more than 200,000 types of microbial growth. It can grow on virtually everything when mold has access to consistent oxygen and moisture. Your property can be at risk of mold growth and colonization if there has been flooding, a water leak, condensation, poor ventilation, or any water damage. Once alive, it can grow into mold colonies, rapidly infesting your property before you know it.
Some are highly dangerous, posing serious health hazards and property damage, while others are bad and unsightly. Regardless of the type, none should be growing in your home or office. Contact us today for professional and specialized services for mold removal Boise if you can spot signs or think you have a mold infestation.
As mold grows in dark corners and under the sink, it can be hard to detect easily. However, some red flags that indicate mold infestation and are easy to spot are discolored areas on the ceiling, carpet, and walls. Other signs are a feeling of dampness and a musty odor in the air. Allow our experts to inspect your property and take effective mold remediation and removal measures to control further damage and completely remove it from your premises. Take action now!
Immediate Mold Remediation in Boise—We Are at Your Service When Needed Most
Failure to remove mold right away can put the safety of your property and health at risk. Modern building materials like carpets, ceiling tiles, sheetrock, wallpaper, and particle boards are like candy to mold. They can eat them away, thereby damaging your furnishings and causing serious structural damage to your building materials.
It can also be hazardous to the health of your loved ones. Mold reproduces by releasing spores. The regenerative cells in them are tough and can survive extreme temperatures and exposure to household cleaning chemicals.
They can be highly dangerous when concentrated indoors and if inhaled by humans and pets alike. Black mold is the worst as it can produce secondary metabolites, which further produce toxins in the air called mycotoxins. Mycotoxins can cause allergic reactions. It can lower the indoor air quality and cause allergy symptoms in children and the elderly like wheezing, itchy eyes, stuffy nose, and itchy skin. Some may even have asthma.
You can prevent all this damage and avoid potential health problems by controlling moisture and eliminating fungal growth. Remediation of mold can be a significant endeavor. Don't worry! We have the experience and technology to get the job done right the first time. Our technicians are IICRC certified in mold remediation and have access to the latest equipment needed to remove mold from every nook and corner of the property.
Our compassionate specialists care for your property and the health of your family. Therefore, when you call us for mold remediation in Boise, we are at your service immediately. Our mold removal techs are available 24x7x365 because we know emergencies can occur anytime and need an immediate response. We provide you with comprehensive mold removal services, including remediation, testing, and cleanup. Rest assured, we make sure mold is completely removed from your premises.
At 911 Restoration , we extend our services to all property owners (including residential and commercial). We provide services for mold remediation in schools and commercial restoration contractors buildings too. All services are delivered in conformance to the local and EPA guidelines. When looking for mold restoration near me, call our experts. We are standing by at your disposal 24/7 in Boise, Idaho. Our experts visit your premises within or less than 45 minutes and perform a thorough and free visual mold inspection.
Contact us at (208) 231-9909. Our mold cleanup experts use the most advanced equipment and tools to ensure your family is safe and your property completely mold-free.
Professional Mold Inspection and Sampling—The Key Step for Mold Removal Boise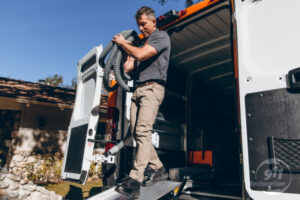 We are trained, experienced, and have a deep understanding of handling mold remediation safely and effectively. We remove mold and restore your property by repairing all the contaminated surfaces and drying structures—much needed to prevent recurring mold growth and ensure you can make a fresh start.
At 911 Restoration of Boise, we don't follow one size fits all approach. We conduct an in-depth and thorough mold inspection of your property. Once the inspection is complete, we take the mold sample to a third-party laboratory for testing.
This is essential to ensure the type of infestation in your property and the extent of the mold growth. Moreover, sampling also provides our mold removal Boise specialists with solid know-how of the problem at hand and how to cope with it.
Based on the inspection results and sampling, our mold remediation techs then create a plan of action and use the right tools and technology, and safety gear to clear your property from mold infestation in the fastest possible time and to your complete satisfaction. We handle mold decontamination safely. Our mold removal professionals are careful to prevent mold spores from spreading to other areas. Act fast.
Remember that some companies only focus on the best water damage restoration near me, overlooking mold remediation. Likewise, property owners may also view it as an unnecessary expense. Either way, mold removal is a serious issue that should not be overlooked or underestimated. If you take measures fast, you can save more money in the long run and save your health from a great deal of damage.
Structural Drying and Dehumidifying
At 911 Restoration of Boise, we go to great lengths to serve our customers because the safety of your family is our top priority.
Once we restore your home after water damage and remove mold completely, our experts make sure to damp areas by dehumidifying structures of your property. This is crucial to protect your space and secure it from future growth.
If your property has suffered from water damage due to any reason, contact us for restoration and mold removal services. Don't delay for the situation to worsen. Let our experienced team handle the job and restore your property and indoor air quality in the shortest time.